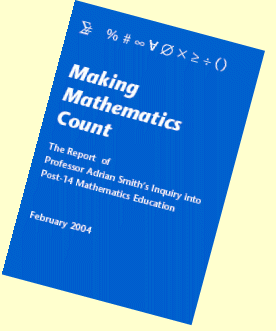 Making Mathematics Count, the Report of Professor Adrian Smith's Inquiry into Post-14 Mathematics Education, is now available.

Start with the:

You may download a PDF of the whole report but be aware that this could take up to 10 minutes on a slow modem connection. You will need Adobe's free reader.
We suggest you save a local copy rather than trying to use your browser.
Right-click (PC) /ctrl-click (Mac) on the link above, then choose the "Save Target as ..." option....
You may order a hard copy from Prolog on 0845 6022260 or by e-mailing dfes@prolog.uk.com.